They said it was just like using a printer. And it kind of is…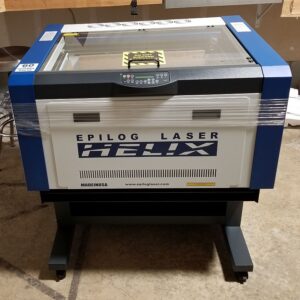 A REALLY COMPLICATED PRINTER ON STEROIDS!
A printer with lots of diverse settings that have to be adjusted for power and speed and resolution and dithering effect, and, and, and… Not just that…those things (and more) have to be re-calibrated for each different type of material you are "printing" onto. For example; the settings you might use to achieve the perfect depth of burn of a logo on birch might be entirely different from the settings you would choose for that same image on say, walnut or bass wood. Much less leather or cardboard! Additionally, the settings you might use to achieve the desired shade and intensity in a plaque expressing a sentiment in words using a specific font would be entirely WRONG for the correct pixelation needed in a photograph where white space around each pixel is not only desirable but required in order to see the depth of detail in photo reproduction.
So, ya…this machine is industrial-grade and takes quite a bit of training and experimentation in order to come up to speed so that we can comfortably add laser-engraving services to my current offering.
Below are a couple of images of recent test projects…
I wanted to try out various settings to see what kind of results I could get with a photograph. I kind of wish I had taken pictures of the earlier renditions of this, lol! But I think we're getting it nailed…slowly but surely!
I burned the smaller version onto a piece of thick leather first. And I've got to say that I was pretty happy with the way it turned out.
So, I thought I'd try it in a larger size and this time on a 12″x12″ square of birch…which is quite a bit harder material than the leather.
Trust me when I tell you that this one took SEVERAL ATTEMPTS to finally achieve this output. But…I _am_ pleased with the final result.
We have also been practicing on ceramic tile and have some acrylic sheeting on order so that we can learn on those, too.
We haven't even tried cutting shapes out with the laser engraver, yet. That's coming next!
I'll keep you posted.
This is kind of fun…but tricky, too!
I'd love to hear your thoughts!
Best,
Tracy