FREEZE SLEEVE is a unique product I just learned about last month.
As a grandparent with grand kids in gymnastics, martial arts and other sports, as well as someone who has suffered with joint pain, off and on, over the years, this product really caught my attention!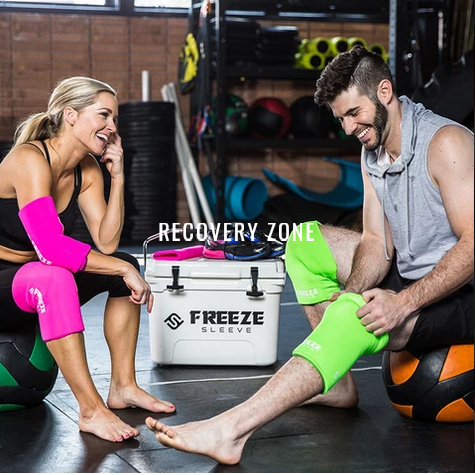 Mike and Robbin, the owners and designers of the FREEZE SLEEVE, have four children who are all active and participate in multiple competitive sports.  All four kids had their share of injuries over the years (as all kids do!), but the youngest of the bunch "Lizzie" could not stay at 100%.  She is a competitive gymnast who trains up to 25 hours a week.  After multiple broken bones, fractures,  pains and strains… her little body was a wreck. 
The story goes that one day she came home from practice crying of both elbow and knee pain.
Mike and Robbin's immediate reaction was to tell her they needed to take her out of gymnastics and find another sport.  
But when their daughter replied, with tears streaming down her face, "But Dad, I LOVE gymnastics!"
They knew they had to find a better solution.

Mike had personally used ice and compression for years as a recovery tool after his daily workouts, so he decided to do some research to see if there was anything out there for her.  After countless hours of searching on the internet, and purchasing multiple products to try, he was ready to give up. 
Nothing fit her little body and on top of that, he found that trying to keep her still for 15 minutes to ice every night was nearly impossible.  Mike knew there had to be a better way.  After seeing an infomercial late one night for compression sleeves… he had that "ah ha" moment. 
He wondered if they could actually make a product that delivered cold therapy in a comfortable, easy to use compression sleeve that was child friendly, non toxic and leak proof? 
That's exactly what they did!
And the concept has taken off!
Now they not only have FREEZE SLEEVES in children's sizes, they offer them for adults, too. And they come in lots of vibrant colors so that they can be stylish as well as functional!
I decided to became an affiliate so that I could share their amazing products with others who need something just like this!
If you'd like to PURCHASE A FREEZE SLEEVE FOR YOURSELF or for someone you love, then CLICK THIS LINK to visit their website and learn more. Yes, I'll earn a small commission if you do buy…but it won't cost you a single penny more to purchase through my link and you'll help support my blog…which I really appreciate!
Watch this video below to see FREEZE SLEEVE in action. (Wow! These girls are amazing!)
If you or someone you love experiences joint pain, sports injuries, or just needs relief from pain I hope you will give FREEZE SLEEVE a try! I love supporting small business owners and Mike and Robbin just kind of stumbled across this idea inspired by their daughter's urgent need. What a great story to support!
Until next time.
Cheers!
Tracy